The War on Poverty Project
Evaluating the lasting, economic effects of the War on Poverty
Research
Is the Social Safety Net a Long-Term Investment? Large-Scale Evidence from the Food Stamps Program
(Martha J. Bailey, Hilary Hoynes, Maya Rossin-Slater, and Reed Walker, April 29, 2019)
The Economic Impact of a High National Minimum Wage: Evidence from the 1966 Fair Labor Standards Act
(Martha J. Bailey, John DiNardo, and Bryan A. Stuart, December 28. 2018)
'Prep School for Poor Kids': The Long-Run Impact of Head Start on Human Capital and Productivity
(Martha Bailey, Shuqiao Sun, and Brenden Timpe), April 24, 2018.
Does Parents' Access to Family Planning Increase Children's Opportunities? Evidence from the War on Poverty and the Early Years of Title X
(Martha Bailey, Olga Malkova, and Zoë McLaren), October 20, 2017. Center for Poverty Research Policy Brief; NBER Working Paper 23971, Census Working Paper, HCEO Working Paper. Conditionally accepted Journal of Human Resources. [Appendices]
The War on Poverty's Experiment in Public Medicine: Community Health Centers and the Mortality of Older Americans
(Martha Bailey and Andrew Goodman-Bacon), American Economic Review 105(3), March 2015: 1067-1104. PMCID: PMC4436657
How the U.S Fought the War on Poverty: The Economics and Politics of Funding at the Office of Economic Opportunity
(Martha Bailey and Nicolas J. Duquette), Journal of Economic History, June 2014: 351-388.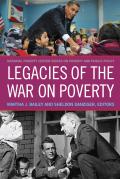 Legacies of the War on Poverty (chapter 1)
(coedited by Martha Bailey and Sheldon Danziger). (New York: Russell Sage Foundation, 2013).
Reexamining the Impact of U.S. Family Planning Programs on U.S. Fertility: Evidence from the War on Poverty and Early Years of Title X
American Economic Journal: Applied Economics 4 (2), April 2012: 62-97. PMCID: PMC3348617